GALLERY
The following images show conservation treatments undertaken on a variety of paintings (click on an image to zoom):
Conservation of an oil painting on canvas, collection of QVMAG. The extensive damage to this painting's canvas support required a challenging tear repair treatment, involving a thread by thread mending, as well as removal of an oxidized varnish.
Conservation of a maritime oil painting on canvas, collection of QVMAG.
Conservation treatment involved removal of a very oxidized varnish, and removal of old canvas patches, tear repair and cleaning overpaints over original paint. A new coat of varnish was applied after the conservation treatment.
Conservation of an ornate gilt frame, private collection.
The conservation of this frame involved extensive consolidation and reattachment of loose ornament. Lost ornament was replaced by casting and moulding from the original remaining section with a synthetic resin. New ornaments were gilded and given a patina to match original.
Mixed media on canvas, on loan to QVMAG. This painting had to receive an emergency treatment prior to an exhibition because of pronounced flaking. Lifting paint was reattached to support and a padded backing was applied to provide support to the weight of the paint.
Travelling exhibitions projects
The following images show work undertaken for international traveling exhibitions.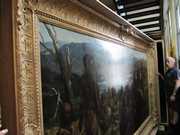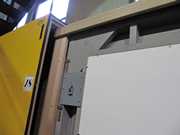 Condition assesment for colonial paintings returning from exhibition 'Robert Dowling Tasmanian Son of Empire', which toured to a number of major art galleries in Australia.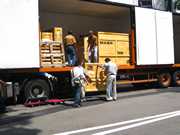 Condition checking of paintings during installation and deinstallation of 'Camino a la Modernidad' (The Patch to Modernity) at the Singapore Art Museum. This traveling exhibition featured over 70 works from important Mexican public and private collections, including works by renowned mural artists Diego Rivera, David Alfaro Siqueiros and Frida Kahlo.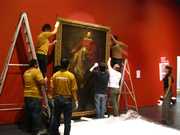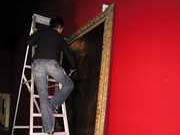 Condition checks for flemish masterpieces for 'The Story of the Image', at the National Museum of Singapore, presenting paintings from the Royal Museum of Fine Arts Antwerp (KMSKA) and the Museum of Contemporary Art Antwerp (MuHKA) in Belgium.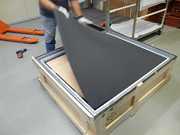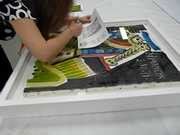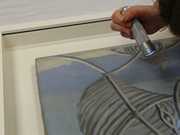 Condition checks of works by Picasso for 'Congo River: Arts of Central Africa' at the Asian Civilisations Museum.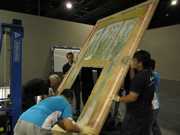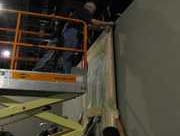 Installation and condition checks of frescos for 'Pompeii: Life in a Roman Village 79 CE'. This exhibition travelled from Italy to Australia and Singapore and included large-scale garden frescos, mosaic fountain, marble and bronze statuary, and other dazzling examples of ancient Rome's artistry and craftsmanship.