ABOUT US
Artco specializes in the conservation of cultural heritage. We ensure the best quality conservation treatments and professional services to preserve collections and artifacts for future generations.
All services are undertaken following international codes of ethic and conduct. These include abiding to principles of minimal intervention, respect for the original and use of materials that are reversible and compatible with the original artifact.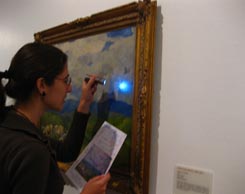 Clients
We cater for large and small, public and private institutions and individuals, such as:
Museums and art galleries
Historic houses and heritage institutions
Commercial galleries
Framers
Collectors
Auction houses
Insurance claims
General public
Professional Profile
Artco Conservation was founded by Paintings Conservator and Museologist Ms. Mar Gómez Lobón.
Education and academic merits
1999 Bachelor degree in Conservation and Restoration of Cultural Materials, specializing in Paintings.
School of Conservation and Restoration of Cultural Material of Catalonia (Barcelona, Spain)
2009 Postgraduate Diploma in Museum Studies, Deakin University (Victoria, Australia)
2010 Finalist for the Roslyn Lawry Award, for standards of excellence in Museum Studies
Conservation Practice
Mar has over 18 years of experience in the conservation field, having worked with diverse collections for museums and private institutions in Spain, Italy, UK, New Zealand, Australia and Singapore.
During her career Mar has obtained extensive international experience treating collections with a large range of materials, from different historical periods and originating from different countries and climates. She was the Senior Paintings Conservator at the Queen Victoria Museum and Art Gallery in Tasmania, Australia, from 2003 to 2008, where she obtained extensive experience in working with museum collections and managing preventive conservation programs. Subsequently she took the position of Head of Paintings Conservation Section at the Heritage Conservation Centre in Singapore for 2 years, before returning to Australia to establish Artco Services, which operates with base in Tasmania.
Memberships and Professional affiliations
Member of AICCM (Australian Institute for Conservation of Cultural Material)
Friend of ICOM-CC (International Council of Museums- Committee for Conservation)
Member of 'Asociacion de Restauradores sin Fronteras' (Conservators without borders)
Publications
During her career Mar has constantly kept up to date with latest advances in conservation by attending relevant international conferences and producing a range of publications:
Gomez Lobon, M and Guasch, V 2002, 'The Conservation of two gothic sculptures from the Curia real, Castello d'Empuries (Spain)', Rescat Bulletin, No. 11, p. 5
Gomez Lobon, M and deFarias, J 2008, 'The conservation treatment of a large varnished watercolour by Tasmanian colonial artist Frederick Strange (c.1807–1873)' AICCM Bulletin, Vol 31, pp. 44-52. (Peer Reviewed journal)
Gomez Lobon, M 2005, 'New Methods of Cleaning Painted Surfaces' (Course review), AICCM National Newsletter No. 94, pp. 19-20
Halim, S and Gomez Lobon, M 2010, 'Dangerous Curves Ahead: The Technical Study and Conservation of Anthony Poon´s paintings in Singapore' poster presented at the internacional symposium Contemporary Art:Who Cares? Amsterdam, June 2010
Gomez Lobon, M 2010 'Beyond the Painted Surface: Conserving the Yeh Chi Wei Paintings in the National Heritage Board Collection' , The Story of Yeh Chi Wei Exhibition Catalogue, available online at http://www.hcc.sg/Highlights/Beyond-the-Painted-Surface-Conserving-the-Yeh-Chi-Wei-Paintings-in-the-NHB-Collection
Gomez Lobon, M 2010 'A life of experimentation: an insight into Cheong Soo Pieng's painting materials and techniques', published online on the occasion of the exhibition Cheong Soo Pieng: Bridging Worlds, available online at http://www.hcc.sg/Highlights/The-Life-of-Experimentation-An-insight-into-Cheong-Soo-Piengs-painting-materials-and-techniques